Partner in change
Endress+Hauser has been a major and key supplier of process measurement engineering to Shell for more than a decade. Why are enduring partnerships especially important in times of fundamental change? An interview with Harry Brekelmans, member of the Executive Committee at Shell, and Endress+Hauser CEO Matthias Altendorf.
Questions: Laurin Paschek and Martin Raab
Photography: Christoph Fein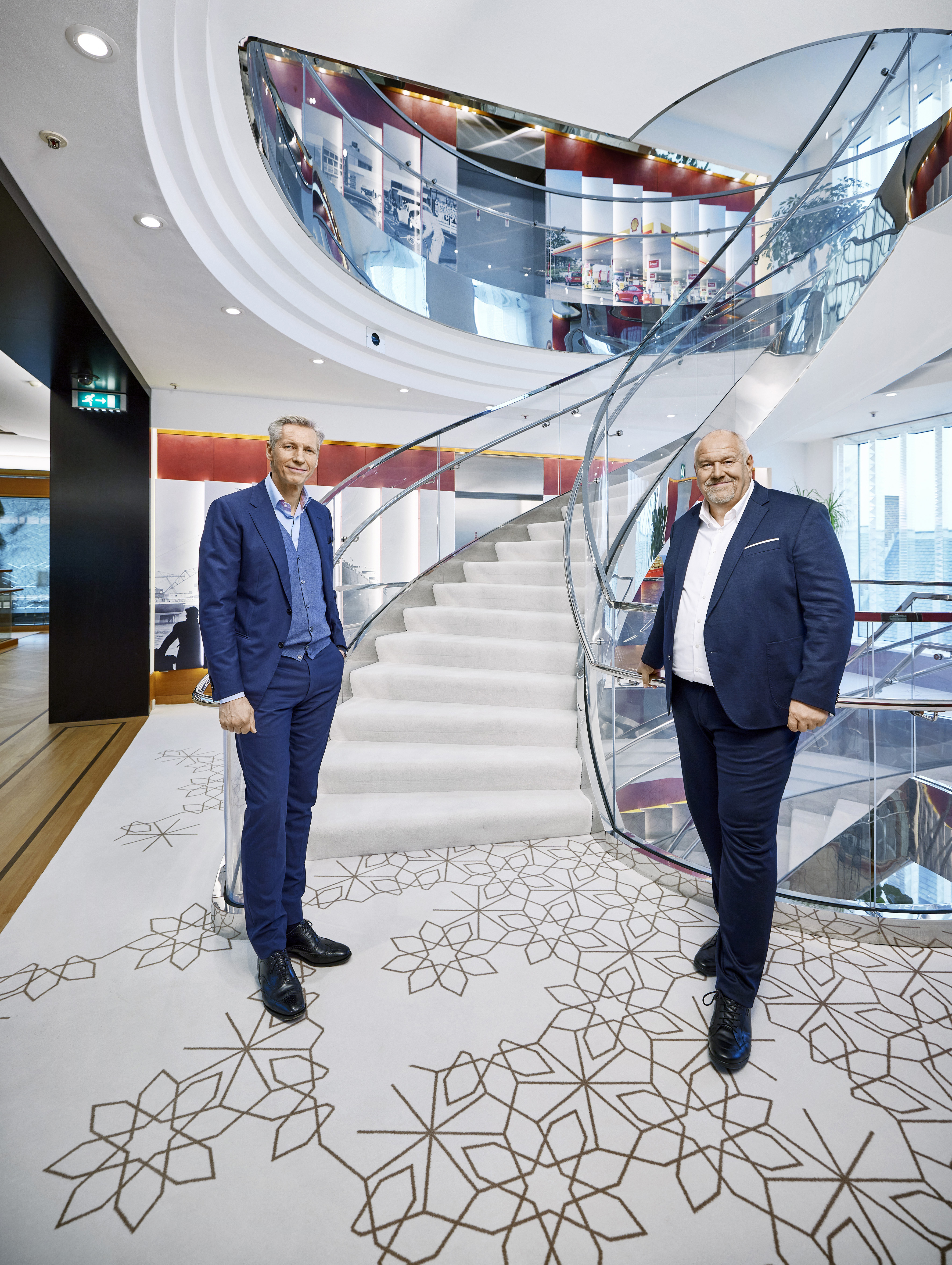 Mr Brekelmans, Shell aims to become an industry trailblazer by achieving a neutral CO2 balance by theyear 2050. Why this radical change in strategy?

Brekelmans: I've been working at Shell for more than 30 years and during this time I've experienced the company as highly dynamic. Change is nothing new for Shell. Time and again, we have turned to new fields of business and developed new technologies – and ensured their financial viability, such as with the introduction of biofuels and the exploration of hydrogen power. This attitude has made us one of the world's leading energy companies. The transition to a neutral CO2 balance by the year 2050 is nevertheless a very big task. We're taking on this transition because it is what society, our stakeholders and our customers want. And we will shape it in constant dialog with these same interest groups.
What is the biggest challenge with this transition?

Brekelmans: There are a number of challenges here. One key question is certainly timing. If the company changes too quickly, on the one hand it could put us at an economic disadvantage with respect to our competitors and we then fall behind the global competition. In the end, perhaps we would lack the stamina to bring the transition to a successful conclusion. On the other hand, if we act too slowly, it could potentially jeopardize the actual goal. Such are the tensions under which we operate, and that's precisely why we want to press ahead with the transformation in line with the expectations of society and our stakeholders.
1,7
gigatonnes of CO2e = Shell's present carbon footprint, which the company aims to reduce to net zero by the year 2050.
Mr Altendorf, in considering the magnitude of this task, have you ever experienced a comparable transformation?

Altendorf: Personally, I can recall the introduction of catalytic converters for automobiles in the 70s and 80s as a way to combat acid rain. In this case lawmakers led an entire industry to change based on available technologies. The Endress+Hauser Group has also undergone change, time and again. A good example is the transition from simple electric devices to electronic microprocessor-driven measurement technology, and onward to purely digital, software-based solutions. We were able to shape this transformation all on our own, so there is no comparison to the challenges of the energy transition.
The digitalization that you speak of can certainly be viewed as a major transformation. How do you go about mobilizing the necessary willingness to change?

Altendorf: First off, employees of large companies need a shared understanding of what the future could look like. And then, everyone has to tackle this envisioned future together. To do that, management must allocate resources to tasks that don't benefit the company in the here and now, such as developing and validating future scenarios. Once a company knows more, it can go a step further, but with a continued footing in the current business model so as not to endanger its future. People need a sense of security and dependability in times of change. They need to know that they are part of the journey to the future.
How did Shell convince its shareholders and the workforce of the new strategy?

Brekelmans: I believe this comes down to having a very logical and easy to understand approach. We have always tried to understand the world around us by listening to our stakeholders, writing scenarios and carrying out studies. Based on this, the Board of Directors and the Executive Committee develop the frame of reference. An important aspect is that when defining the future energy world, we have to think backwards in terms of what the customers need, rather than extrapolate forward based on assumptions about the available resources. We also have to ask ourselves what forms of energy our customers will in future prefer if they want to see more climate protection at the same time. Another important aspect is the realization that while we need more and cleaner energy, global energy demand will continue to grow.
What technologies are the major actors in your strategy?

Brekelmans: Innovative technologies such as biofuels, hydrogen and atmospheric CO2 capture feature large in most scenarios. But at this point in time, I would not emphasize any single technology. What's decisive is not the technology itself, but its scalability. With existing technologies we can make considerable progress toward our net-zero goal. Yet all that depends on leveraging the necessary economies of scale. This is where Shell has always performed well, and we must continue to work on that.
"Our corporate cultures are very similar in a way that they both highly value technology and innovation, quality and reliability."
Harry Brekelmans,
Projects & Technology Director Shell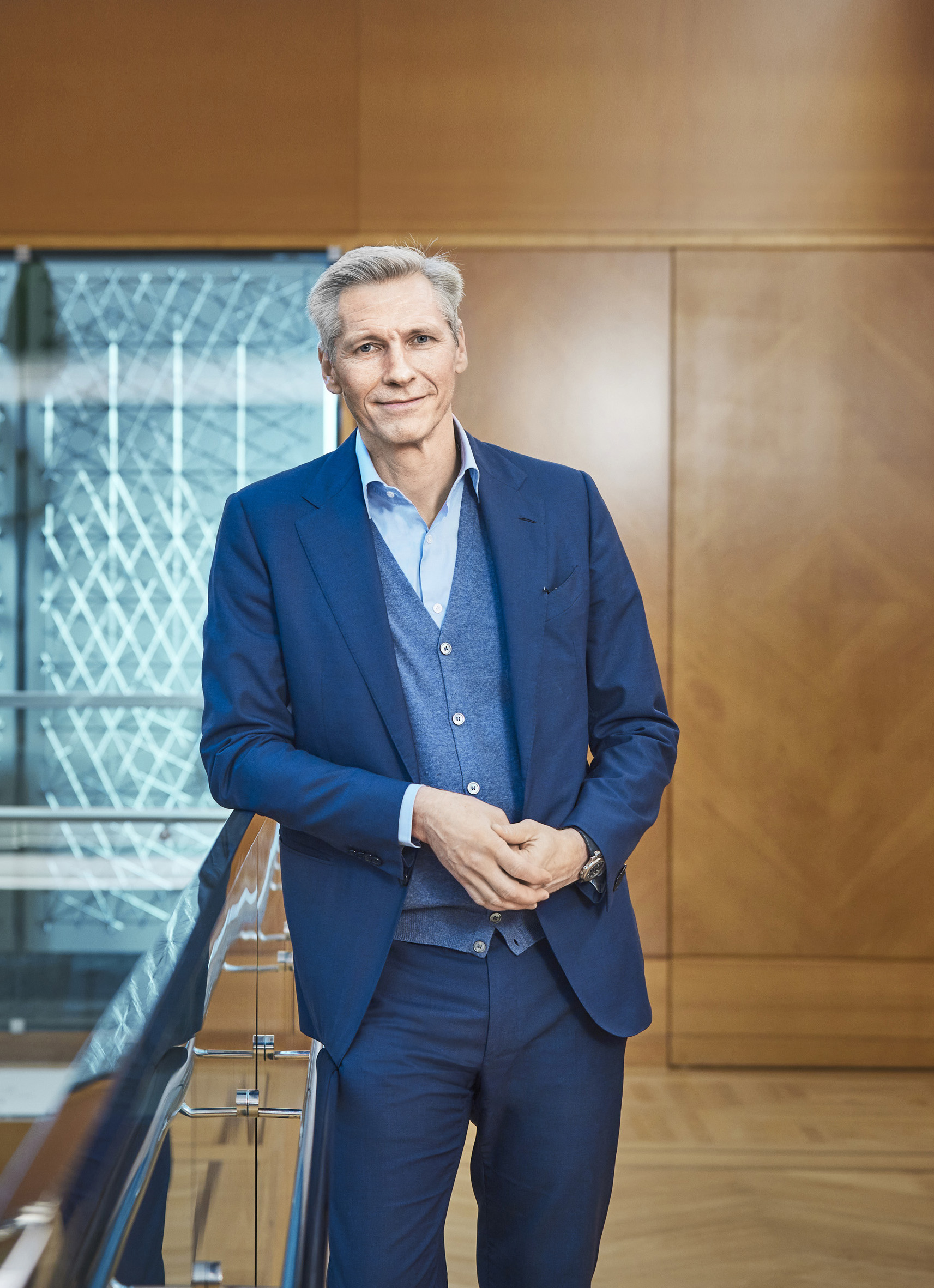 How can business partners such as Endress+Hauser best support you?

Brekelmans: Our partners can give support by developing the innovative components that we need for the transition and integrating them into novel, complex systems. Endress+Hauser has extensive experience in this area and a very good understanding of Shell's business as a long-standing supplier. In addition, our corporate cultures are very similar in a way that they both highly value technology and innovation, quality and reliability. That's why we view Endress+Hauser as a really important partner in our forthcoming transformation process.
Altendorf: Take the aviation industry as an example. A Shell pilot plant recently provided synthetic kerosene made from renewable energy sources that powered a flight from Amsterdam to Madrid, and will in the long term enable carbon-neutral aircraft fuel. Producing this climate-friendly kerosene as efficiently and cost-effectively as possible requires reliable and precise measurement technology. We can supply this technology today and advance it together with Shell as part of a further scaling effort. Sharing information directly between the two companies is of central importance to innovation development.
Conversely, could Endress+Hauser also use Shell products in its decarbonization strategy?

Altendorf: I can well imagine Shell one day providing our company with green energy, even though we don't have extraordinarily high demand in our production. But of course there is demand in our office buildings and our supply chain. At some locations we are currently producing the energy we need on our own, with the help of natural gas. We could eventually convert these cogeneration units over to synthetic, climate-neutral natural gas or green hydrogen from Shell.
A personal question before we wrap up: how do you make a commitment to more climate protection in your private life?

Brekelmans: My family understands the special responsibility my job carries. I have frequent conversations with both my children and my wife about the energy transition and climate protection. We try to create as few greenhouse gases as possible, even though we still drive a combustion engine vehicle from time to time privately. We use electricity from renewable sources and keep a conscious eye on the climate impact of the food we eat. We have set ourselves a goal of being CO2-negative within the coming years.
Altendorf: I often have these kinds of conversations with my 24-year-old son. I currently drive a hybrid vehicle, which can operate fully electric on the commute to work, and I frequently take the train for medium-distance travel. Furthermore, the roof on our house is decked out with solar panels. In terms of my overall balance, I have the advantage of owning a few hectares of woodland, which I tend to and maintain myself. I enjoy working there. That's my personal carbon capture strategy. Ultimately, forests are the most natural way to draw CO2 out of the atmosphere.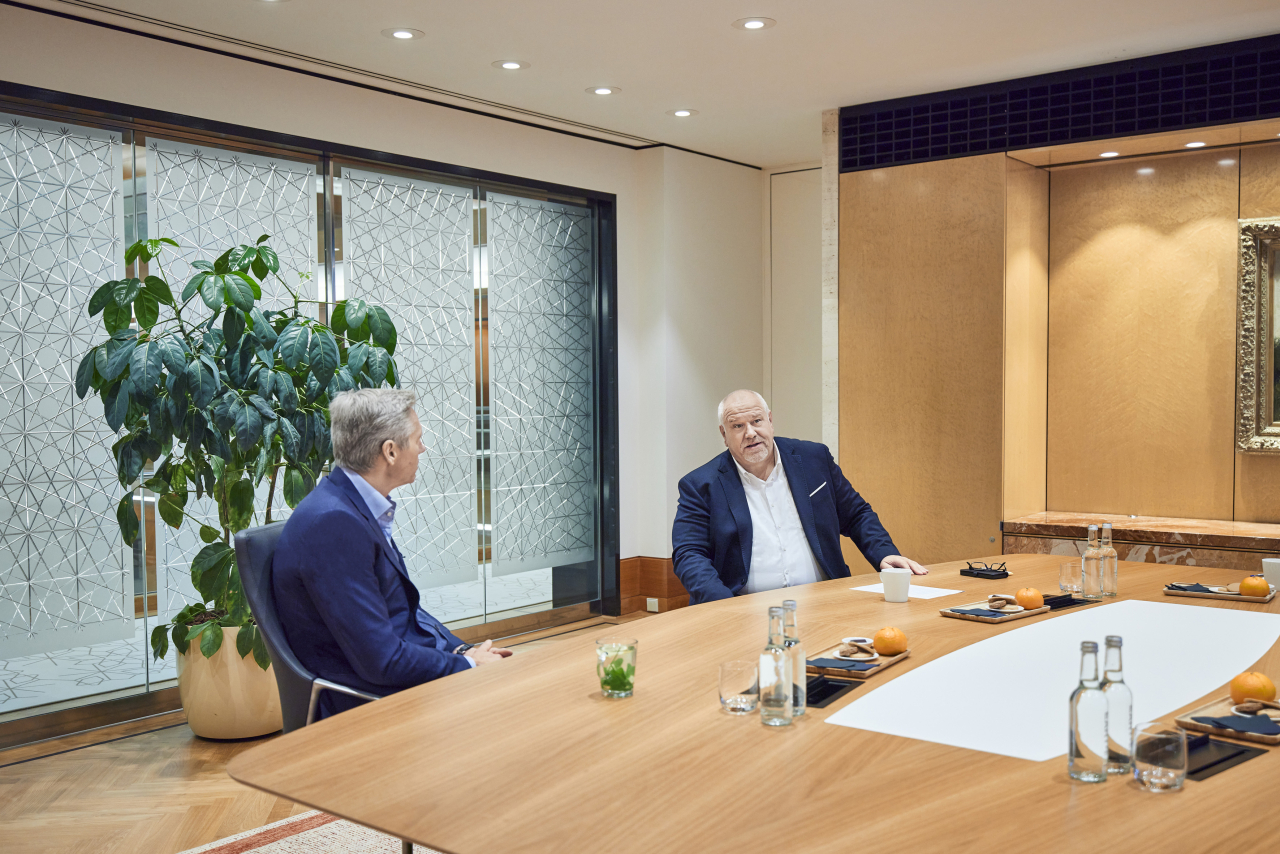 Partners in dialog: Harry Brekelmans and Matthias Altendorf at Shell in The Hague.
Published 25.07.2022, last updated 14.09.2022.
Dive into the world of the process industry through new exciting stories every month with our «changes» newsletter!
Subscribe to newsletter