New paths
What happens when measurement technology experts are granted abundant creative freedom to explore fields far removed from everyday business? They develop innovative products for new markets – like a flood early warning system.
Text: Christine Böhringer
Graphics: Teresa Bungert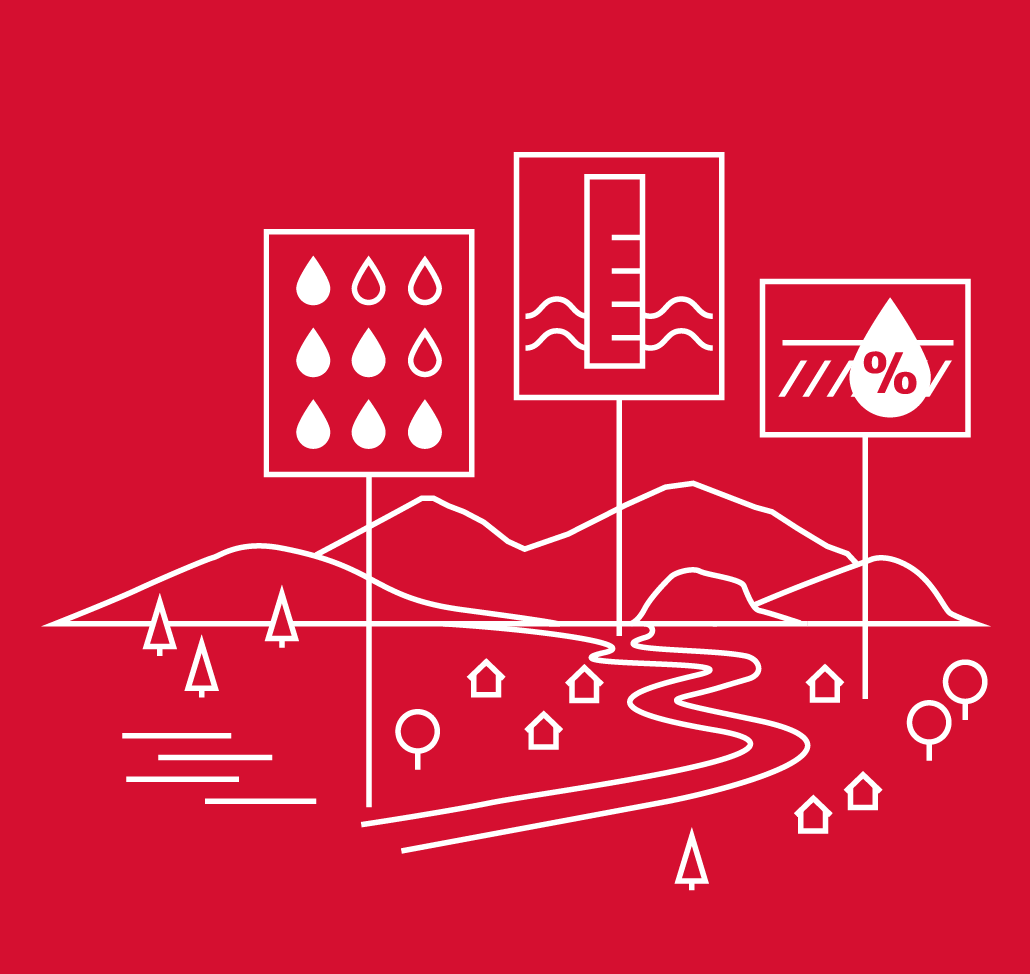 Product Development
The summer of 2021 was catastrophic in Europe. Continuous heavy rains led to flash floods and deluges that claimed more than 200 lives and caused damage costing billions of euros. "In weather conditions like these, smaller and mid-sized watercourses quickly transform from trickles to raging torrents," explains Florian Falger, Business Model and Market Manager at Endress+Hauser. With personnel sparse on the ground, these waters are rarely monitored – or not at all. But now there is an alert watchdog for this task: an early warning system that operates with little effort in the background and predicts danger.
That doesn't sound like a traditional product development activity at Endress+Hauser – because it isn't. The system was conceived in the innovation lab at the center of competence for level and pressure measurement technology, where a small team tinkers with products and solutions for realizing smart city concepts and bringing laboratory-type measurements into the field. "We're an incubator of sorts for new approaches and business models," explains Falger. But rather than being technology-centric, the focus is on the user. "We ask ourselves, where does concrete demand exist in market segments that are new for us?" Development activities are founded on Endress+Hauser's extensive knowledge and broad portfolio.
Cross-functional collaboration along with customer- centric, agile innovation approaches such as scrum, design thinking and lean start-up methods make for a fast-moving team. A successful one, too: they have already brought to market a multi-sensor system that allows breweries to track their beer fermentation process in real time. The QWX43 fermentation monitor is making a splash in the industry and has already garnered a prestigious innovation award.
Many communities have expressed interest in the flood early warning system, which analyzes the local situation, saves precious time in the event of an emergency and requires little installation effort. The system combines level measurement technology with a cloud platform, artificial intelligence (AI) and ground moisture sensors. While Endress+Hauser developed the AI technology in collaboration with hydrology start-up Okeanos, the moisture sensors came from IMKO, a subsidiary of Endress+Hauser. "Water levels alone are insufficient predictors of flooding," says Florian Falger. "The state of the soil is important as well. If it's already saturated, or completely dried out, heavy rains will just run off and cause waters to rise rapidly."
How the flood early warning system works
1
The system keeps track of the local situation using sensors that collect data within a specific area. Sited directly by creeks, rivers and on the surrounding land, the sensors detect rainfall as well as measuring water levels and ground moisture.
2
Sensor measurements are transmitted via the mobile phone network to Endress+Hauser's Netilion cloud, where an AI algorithm from start-up company Okeanos correlates them with weather conditions. Based on these values, along with other data such as rainfall forecasts, the AI technology can predict how a local situation will develop.
3
If the system detects an elevated risk of flooding, it automatically pushes an alert to the smartphones, tablets and computers of the responsible authorities with a precise overview of the present situation in their area and how it is expected to develop.
4
The algorithm learns over time, thus gaining an increasingly better understanding of a given area. This allows local communities to fine-tune their flood protection schemes over the long term – for example by introducing safeguards to protect critical locations.
Published 26.04.2023, last updated 09.05.2023.
Dive into the world of the process industry through new exciting stories every month with our «changes» newsletter!
Subscribe to newsletter