"New ideas emerge at the interfaces"
What do companies need for long-term success? What should guide their progress? And what is the key to continued success through changing times? Dr Ronald Gebhard, Vice President of Biosciences & Process Innovation at DSM, and Matthias Altendorf, CEO of Endress+Hauser, work for companies that are worlds apart. And yet, in conversation, they soon find that they have a lot in common.
Questions: Laurin Paschek
Photography: Andreas Mader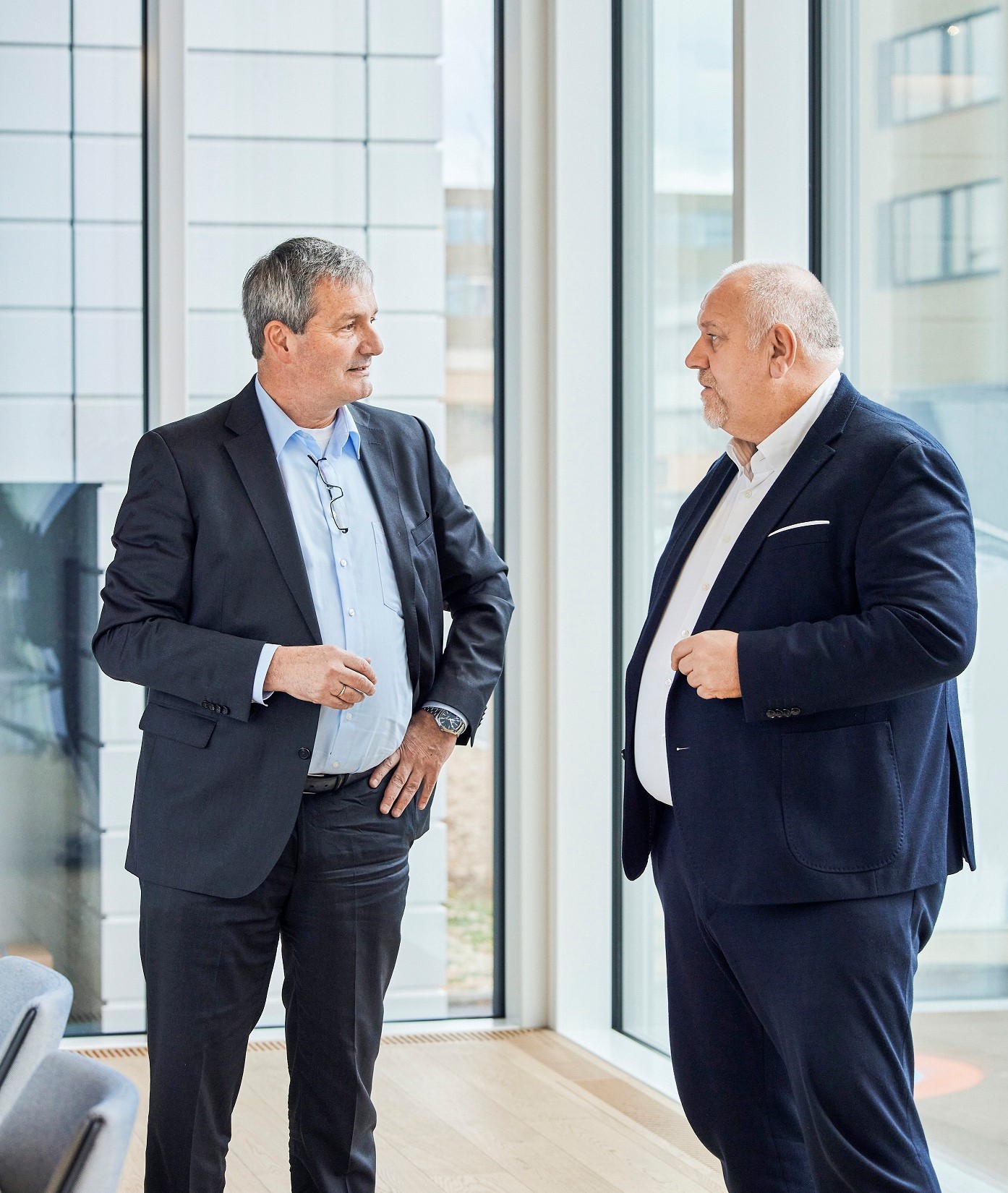 Mr Gebhard, over the course of a century DSM has evolved from a mining company to a global leader in health, nutrition and biosciences. What were the crucial factors that made this a successful transition?

Gebhard: At DSM, we follow a simple strategic approach to avoid losing our way in the change process. First, we focus attention on consumer trends and global challenges. From there, we deduce market opportunities – for example changing diets, population growth and climate change. Then we examine ways to translate such shifts
into innovation and see whether we need new scientific and technological capabilities to get us there. New ideas often emerge at the interfaces of disciplines and companies.
Are there any core elements that DSM has kept faith with over the years that have been important to the transition?

Gebhard: In my view, the most important success factor is that we never lost our confidence in the power of science and innovation, even when we were not successful. We have always held the firm belief that our innovative strength will lead us to the necessary solutions for the challenges facing society. Acquisitions have been an important part of our evolution. Having new teams on board expanded our expertise and enhanced our corporate culture. Those teams have grown in diversity, and our values have evolved over time. To give you an example, there are now six different nationalities represented on my process innovation management team. My personal experience is that diverse teams with strong shared values can unlock huge creativity and innovation.
"Long-term growth matters more to us than short-term profit. After all, building something new that is solid and stable takes time."
Matthias Altendorf
CEO of the Endress+Hauser Group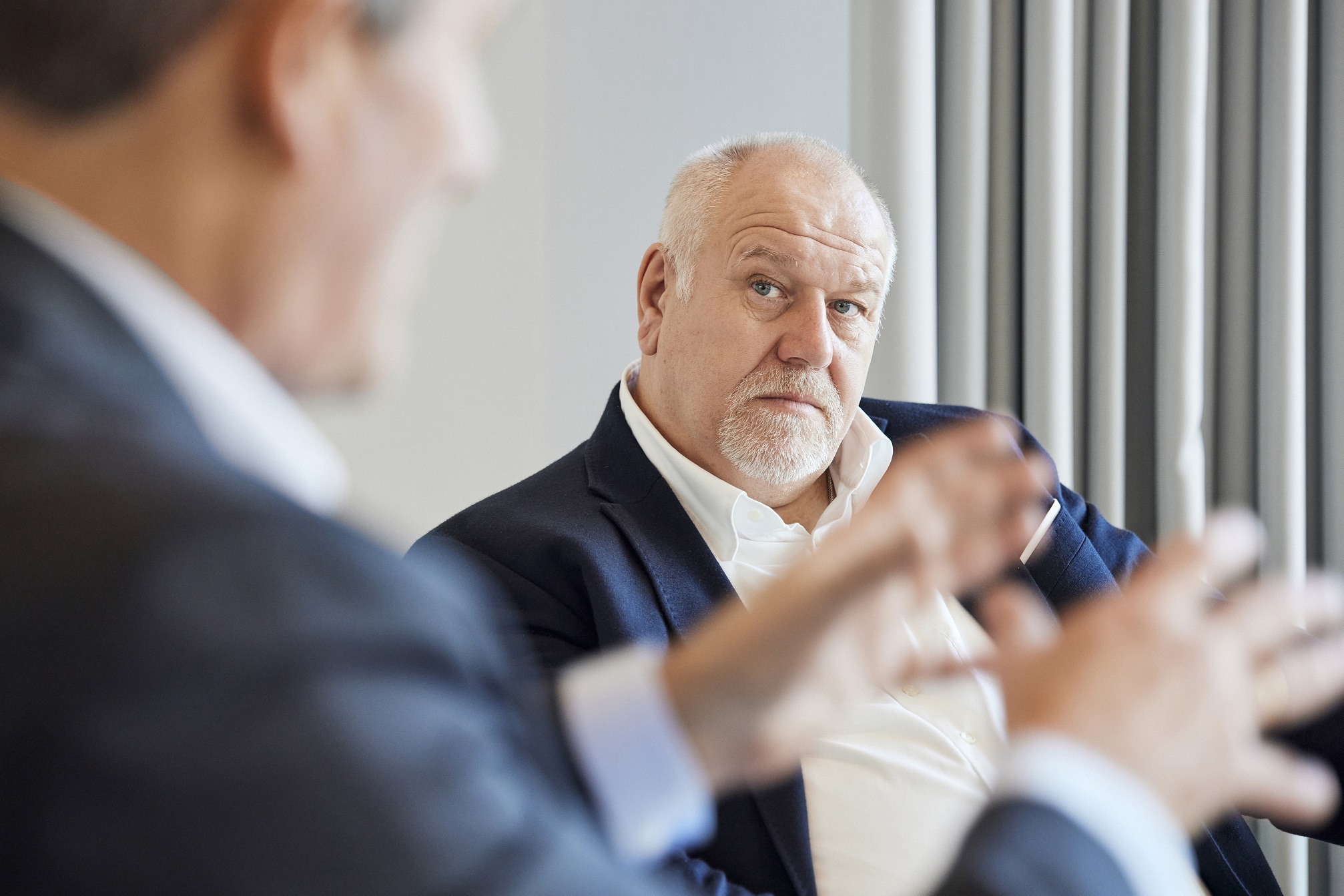 Mr Altendorf, Endress+Hauser has achieved outstanding success in process instrumentation over the past 70 years. What kinds of qualities do companies need in order to hold their own in the market over decades? What helps Endress+Hauser to keep on being successful?

Altendorf: Maintaining a close relationship with our customers is pivotal. We understand where they are heading. When DSM looks at megatrends and comes up with new product ideas, at some point those ideas will need translation into process engineering – and that's where we come in. We recognize the challenges our customers face and use our innovative strength to help them get things moving. Another point is that, just like DSM, we firmly focus on the human element of business. People make the difference. It is people who get the best out of an environment or a system. This approach provides solid ground for lasting success and is deeply rooted at Endress+Hauser. It's a good fit for us, as a family-owned business. Families are there for each other, take responsibility for each other and think across generations. A third important quality is our capacity to change and welcome new ideas. That opens the door to opportunities we might have missed otherwise. Our diverse, interdisciplinary teams create things that are always raising the bar on existing technology.
What are the greatest challenges for Endress+Hauser at the moment? What will it take for the company to continue into a bright future?

Altendorf: It's imperative to create an economy that consumes as few resources as possible. This is a challenge both to us as a company and to our customers. Measurement technology can help our customers minimize their impact on the environment, which is an area where we have significant leverage. We also need to remain attractive as a business so that customers, employees and external partners never lose that desire to work with and for us, to collaborate. This means all of us working toward a goal that is only achievable if we pull together. And finally, we must maintain that proximity to customers – both in the physical and the virtual world – in order to anticipate what challenges may be around the corner in process engineering.
Gebhard: Sustainability drives us both! Endress+Hauser's high-precision, reliable measurement technology plays a pivotal role in driving the efficiency of our chemical and biotech processes. Measuring means knowing. Measuring generates the data we need for improvements to manufacturing: digital twins is a nice example, where we mimic the plant in the lab.
"Measuring means knowing. Measuring generates the data we need for process innovation and improvements to manufacturing."
Dr Ronald Gebhard
Vice President of Biosciences & Process Innovation at DSM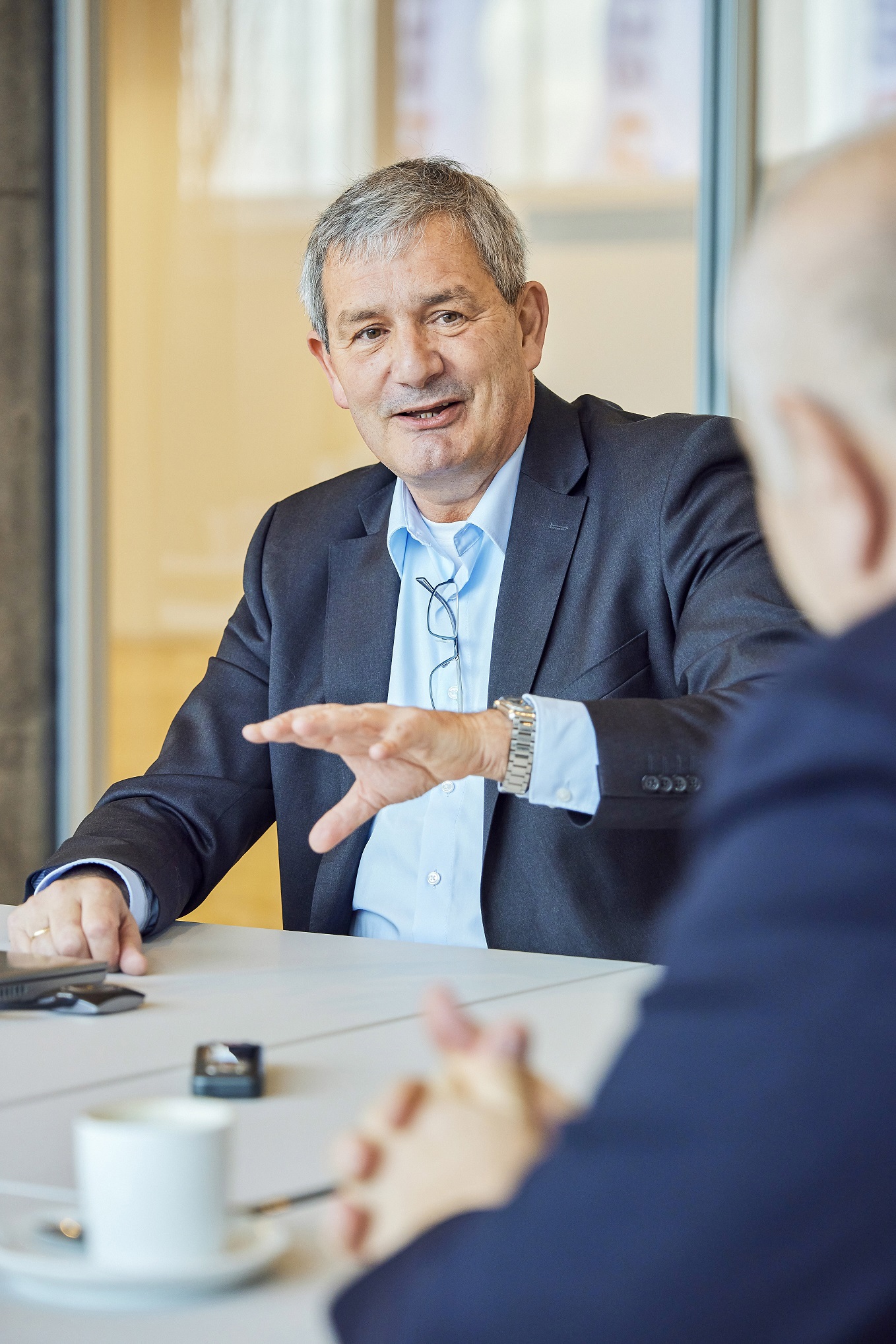 What are the major forces driving DSM's business?

Gebhard: The main driving forces are the challenges of the global food system. Let me give you an example. We cannot afford to overfish our oceans any longer. Did you know that four to six kilograms of fish go into producing every kilogram of cultured salmon? It's high time for a totally new approach to the food chain. DSM has the capability to bring about change. And we see this as our responsibility. Hence our Veramaris joint venture with Evonik to make omega-3 fatty acids from natural marine algae. Cultured salmon can thus be fed algae-based omega-3 oil derived from sugar, rather than fish oil from wild-caught fish.
Altendorf: Approaches like these are vital because we have to feed and care for an ever-growing and increasingly aging world population. But at the current scale, this isn't viable. So, one solution is to change the way in which we produce proteins; another is to improve the quality of nutrition through personalization. People are healthier if their diet is tailored to their specific needs. At the same time, this makes food production more efficient.
What role does process innovation play?

Gebhard: Chemical and biotech processes convert small molecules into the molecules we want. Process innovation aims to make this conversion more efficient and to minimize loss. Increasingly we can decide whether to go with a chemical process, take the biological route, combine both into one or use renewable raw materials. The goal is to convert as much as possible of the raw material into product, using the minimum amount of energy and resources. That's where the technology from Endress+Hauser comes in, to provide real-time insight into these processes.
How exactly can Endress+Hauser support DSM in this?

Altendorf: We get together with our customers to investigate how we can engineer processes to be as energyand resource-efficient as possible and ultimately integrate them into a cycle. The more accurate, robust and connected the measurement technology is, the more successful the result. Our measuring instruments also contribute to plant safety. And when it comes to efficiency, we don't ignore our own devices. Earlier ones consumed an average of one to three watts of energy, compared to the latest generation that operates on just 30 milliwatts. New measurement and analysis technologies are important too, but developing them requires a lot of patience: the journey from measurement principle to production readiness takes 10 years on average. So it helps to be a family-owned business with a long-term approach to planning and investment.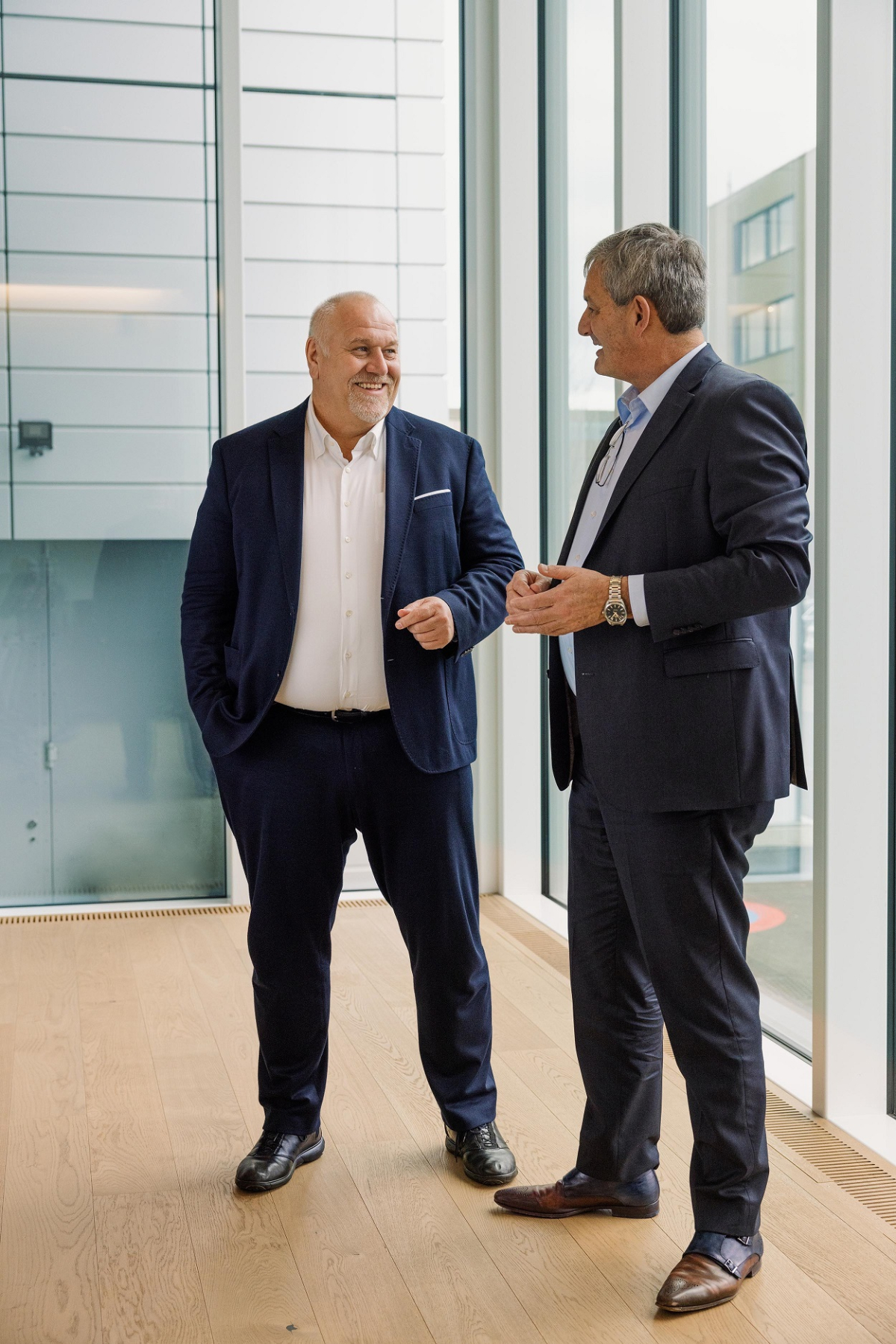 DSM is a strategic account of Endress+Hauser, and Endress+Hauser is part of the DSM key supplier program. What is the value of such partnerships?

Gebhard: Strategic supplier relationships within our Sourcing Technical Goods and Services department are managed under the leadership of William Davis, our Director of Sourcing Technical Goods and Services. He told me, when we launched our key supplier program, we had 12,000 suppliers. We chose around 200 and invited them to have a deeper dialogue on developing a closer relationship. Going in, we knew that we weren't Endress+Hauser's largest account, and they were not our biggest supplier. However, we both saw strategic opportunity along with common goals for a better planet. Mr Altendorf's example of the measuring instrument is a good illustration of that. When we operate a field instrument, it uses our energy. And if Endress+Hauser cuts energy consumption to a fraction of what it was previously, they are on the same wavelength as us. They aren't only looking at the next quarterly results, with the aim of selling as many units as possible. They are thinking about their customers, their costs and their carbon footprint. They care about us. Thinking ahead, sharing common goals and values: that's how future ecosystems of likeminded companies will succeed in tackling the greatest challenges of our time!
Altendorf: When we decide to make a customer a strategic account, it also means that we want to understand their business and their needs. I think we have succeeded in that with DSM. Long-term growth matters more to us than short-term profit. After all, building something new that is solid and stable takes time.
Published 28.04.2023, last updated 09.05.2023.
Dive into the world of the process industry through new exciting stories every month with our «changes» newsletter!
Subscribe to newsletter