Leading from the front
Although the coronavirus pandemic poses challenges for companies, it also spurs developments. And that calls for leadership. Stefan Scheiber and Matthias Altendorf talk about their experiences and insights.
Questions: Martin Raab
Photos: Jekaterina Gluzman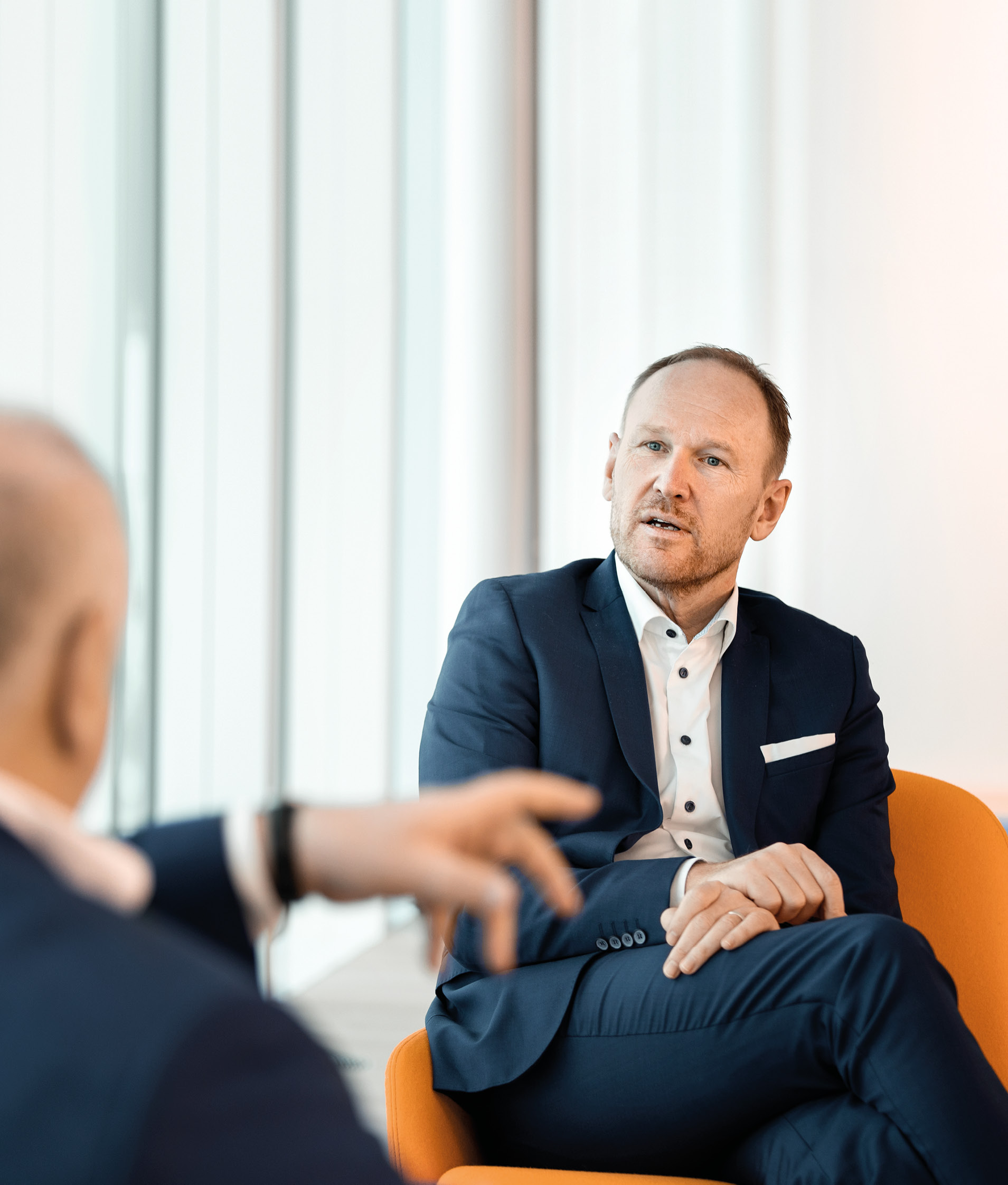 Mr Scheiber, Mr Altendorf, when did you first realize you had a genuine crisis on your hands with Covid-19?
Scheiber: We first recognized that we were dealing with a serious situation when our Chinese employees were no longer able to return to the plant after New Year festivities. We employ 3,500 people in China; more than 50 percent of our production capacity is located there. If everything is idle, we run the risk of our deliveries being delayed.
Altendorf: I was travelling in Asia at the same time. The passenger seated next to me on the plane thought it was time to shift to SARS mode again. He then showed me his pandemic kit: protective mask, hand disinfectant and a ballpoint pen.
What was the pen for?

Altendorf: You can use it to push elevator buttons without having to touch them with your fingers! When we arrived in Taiwan, the Taoyuan International Airport was practically deserted – something unheard of at the end of Chinese New Year. All flights to China had been canceled!
How did you respond?

Altendorf: We immediately raised it as an issue within the Executive Board and stopped all business travel to, from and within Asia. We then created a Group-wide task force.
Scheiber: For us it was crucial to get the operation in China up and running again. Luckily, we did that very quickly. And we too established a task force to manage the pandemic. This group supports the line managers who take care of operations. We did this all around the world to make sure that we protect the health of employees everywhere.
Altendorf: To be honest, though, we had no experience in dealing with an epidemic, but our colleagues in Asia did. They are usually the ones who are listening and learning in meetings. During the coronavirus pandemic, it was suddenly the other way around.
"We learned how dynamic the transformation is. That's why the ability to forge partnerships is increasingly important."
Stefan Scheiber,
CEO of the Bühler Group
Did you change your management approach during the pandemic?
Altendorf: I normally meet the Group's managing directors once a year. During the pandemic we switched to quarterly video conferences. That brought the Executive Board extremely close to business operations. We had our finger on the pulse and could immediately sense what was going on in the entities.
Scheiber: Regular communication was highly important during the pandemic. We significantly intensified the way we communicate. I had a call with all regional managers once a month. On the discussion agenda was also how we manage this situation as leaders.
Altendorf: In this situation, you must make sure that employees sense the empathy at the heart of the company. You have to show them that you are interested in how they're doing and in what is happening to them; that you are not abandoning them to their problems. For me it was especially important to convey that we would have to overcome this crisis through solidarity, not selfishness. Everyone has to pitch in; together is the only way.
 
"We experienced an incredible digitalization boost through Covid-19."
Stefan Scheiber,
CEO of the Bühler Group
How did you manage to balance crisis management and strategy development?
Scheiber: We have a five-year strategy cycle that ended in 2020. It was important that we developed a new strategy during the pandemic and planned its implementation. People need a perspective, and that naturally also applies to our employees. They must have hope that the crisis will eventually pass and that the business has a future, which was why we went through with developing the strategy. That created a lot of positive energy because we proactively addressed the future and didn't retreat into our shell.
Altendorf: When you point to an end to the crisis, you also gain confidence. People have to know that there will be a time when we will have overcome the crisis. It will eventually pass. We can't say if that will be in six, 12 or 18 months, but one day it will pass.
What does the crisis mean for your business?
Scheiber: The pandemic had dramatic impacts for many of our customers. Some segments collapsed, while others boomed. The plant-based food industry has experienced enormous growth. Although we're well positioned in this market, we first had to manage the growth. The food industry is otherwise very stable. We had never experienced such a dynamic environment before.
Altendorf: Consumers have undergone a genuine change of awareness. Health, nutrition, the environment – all of these issues have taken on enormous importance.
Scheiber: The pandemic has changed a lot of things, and that includes the realization that climate change is the major challenge for the coming years. If industry finds solid solutions so that customers can operate their plants in a more sustainable, efficient, eco-friendly and also profitable way, that's good news. It means industry is not destroying the world; it's delivering solutions to deal with our environmental problems.
What lessons are you learning from the crisis?
Scheiber: We have learned how dynamic the transformation is – in communication, technology, digitalization. That's why the ability to forge partnerships and seek collaboration is increasingly important. Bühler is a company of engineers. We always created everything on our own, but that's not a model for the future. The world is moving so fast and change is so broad that we have to work with the best suppliers and partners and then jointly approach the customer with a novel solution. Networks are extremely important in the 21st century.

Altendorf: We have to concentrate on doing what we do best and on what creates value for the customers. That's why today, we think in terms of ecosystems. Digitalization creates new opportunities for communication and collaboration. In one-on-one environments, it's difficult to fill such an ecosystem with life. This is a lot easier to accomplish if I can interact with many partners at the same time.
Scheiber: The crisis also showed how important the physical infrastructure is with our 100-plus service stations around the world. These employees are present in the markets, in the countries, where they can move around even if the borders are closed. That's not something you can digitalize.
What do you think will stay in place after the pandemic?
Scheiber: We experienced an incredible digitalization boost thanks to Covid-19 – in everything that we do. In one year we made as much progress as we would otherwise make in five or ten years!
Altendorf: Executive Board meetings, Supervisory Board sessions, management conferences – we never imagined making all of this digital. But internally and externally, we live in a virtual world of relationships that we developed in the real world. Yet it won't work over the long term without meeting face to face or traveling.
Scheiber: The pandemic nevertheless showed that you can accomplish much with a lot less travel. I used to be on the road 40 to 50 percent of the time. But today I know there is another way. We can discuss business via video conference. In the future, I will be traveling primarily if I want to meet and talk to our employees. And for certain things, I will never travel again!