Doing more with data
Data is changing our world. Endress+Hauser, too, intelligently draws on this resource – and thus time and again delivers the key differential.
Questions: Kirsten Wörnle
Photography: Andreas Zimmermann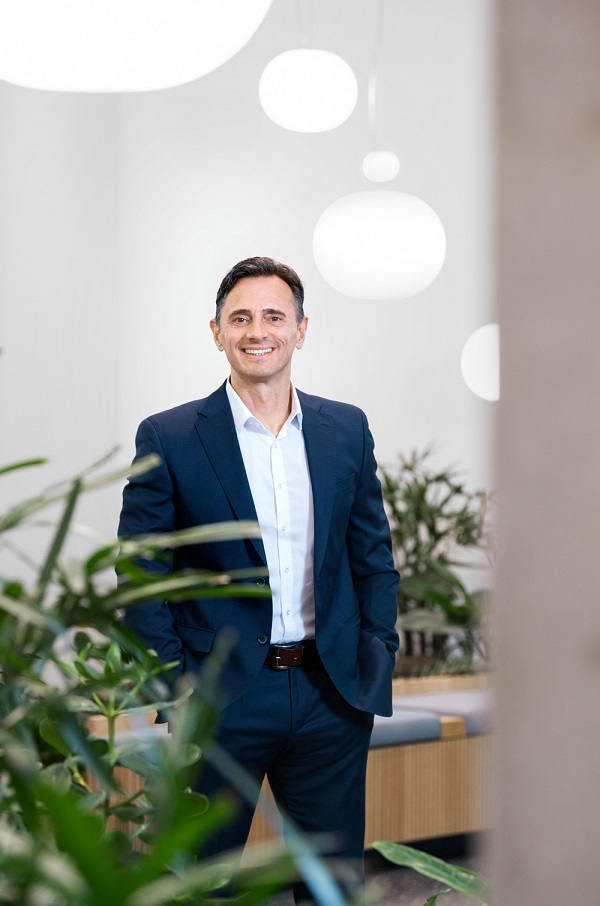 "Uncorking the data bottle"
Many companies in the process industry are sitting on a treasure trove of data. Endress+Hauser is on a mission to help customers make more out of it. "The potential is huge," says Marco Colucci, who in his role as digitalization expert at Endress+Hauser is closely positioned to help usher in this change.
INNOVATION
Digitalization in the process industry holds the promise of more transparent business processes – and hence new insights. How far along are your customers and where does Endress+Hauser play a role?
We want our customers to make better decisions – data-based decisions – armed with valuable insights about their processes. Combined, customers' plants contain millions of Endress+Hauser instruments, most of which can communicate digitally. Our intelligent sensors supply extensive diagnostic and monitoring parameters. Their data is a source of wide-ranging insights that in turn expose new optimization opportunities. And yet, customers currently use less than three percent of the data from our field instruments.
Why is that?

Older plants often lack the digital infrastructure needed to tap into and transmit the device data. The instruments themselves are intelligent, yet one might say that the cork is still stuck in the data bottle. It also comes down to the issue of knowledge and what you can do with the data. And this is where our digital services come in.
Where do solutions from Endress+Hauser come into play?

First, we handle the seamless transmission of process and device data from the field, for example using the latest Ethernet and wireless communications technologies. Then our data scientists, with their instrument and application knowledge, use the accumulated data and associated context information to develop digital applications. Depending on the process or the customer's preference, these digital applications may run locally on edge computing devices or via Netilion, our cloud-based ecosystem for the Industrial Internet of Things. They can also be integrated into other digital ecosystems, such as the customer's own system. These are all out-of-the-box solutions, ready for immediate use. Unlike big data applications, they do not require months of collecting and analyzing large volumes of data.
Where are your applications at work?

One example is Netilion Water Network Insights, a cloud-based system that we developed for monitoring complex water grids. For instance, heavy rainfall warnings or consumption forecasts can be integrated into this solution with the help of artificial intelligence. Moreover, our measurement instruments with Heartbeat Technology continuously send information about their condition. From that, an algorithm is able to determine the optimal moment for maintenance or calibration. This increases product quality, provides safety, leads to more efficient maintenance and minimizes plant downtime. Another promising area is inline process and quality control, which brings us to the field of soft sensors.
What exactly are soft sensors?

They are a kind of virtual sensor: applications with an AI component that, for example, combine various measurement parameters with process and context information to generate a new measurement or target parameter that cannot be determined using a physical sensor alone. This is interesting for the food industry, say. To date, the manufacturing process has to be interrupted so that a human inspector can test the taste and consistency of cream cheese or yogurt products. A soft sensor is able to replicate these human senses and supply the same result, all while the process continues to run.
Who owns this data and does this ultimately mean that you develop individualized apps?

It's the customer's data, yet we learn from it. We aim to utilize the accrued process knowledge in a scalable manner to further improve our products and develop new solutions. One thing of growing future importance is the establishment of innovation relationships between us, our customers and value creation partners. Digitalization only works really well in networks.
Published 02.12.2022, last updated 12.12.2022.
Dive into the world of the process industry through new exciting stories every month with our «changes» newsletter!
Subscribe to newsletter