Delivering with agility
Endress+Hauser is developing the Netilion IIoT ecosystem in small steps. This approach lets users quickly and easily derive benefits from their data – and ensures that the solution fits their needs perfectly.
Text: Christine Böhringer
Photography: Christoph Fein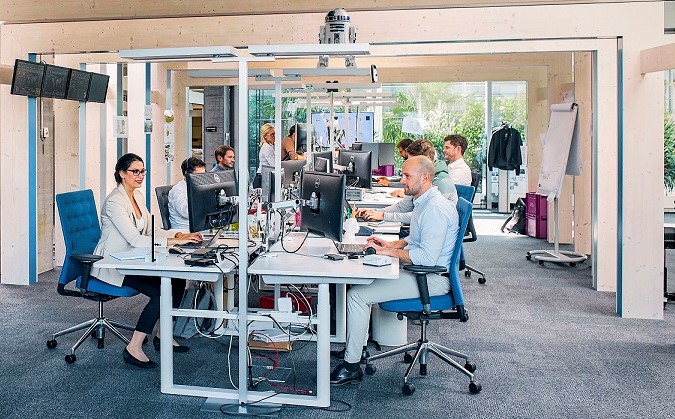 DIGITALIZATION
An engineer, sitting alone hunched over a desk, working for months on a single concept and then spending just as long meticulously bringing it to fruition: for a long time, that was how software was developed at many companies. "Ultimately, many of these projects failed because they didn't match up with customers' needs, or because requirements had changed in the meantime," says IT expert and software engineer Andreas Hofmann. That's why he takes a different approach when it comes to expanding the Netilion cloud-based IIoT ecosystem with his team at Endress+Hauser. "We use agile methods like Scrum. That leads to short product launch times – and allows plant operators to reap added benefits from their field device data quickly, without laborious and time-consuming software installations."
The centerpiece of Netilion is the Netilion Cloud, which is where field device data is sent. Endress+Hauser has built on that solution by providing Netilion services, a collection of specific web-based applications. There are currently six of them, all created through sprints. "For such a sprint, we break down a software application into individual small functionalities designed to add value for the customer, and then we program each of them within two weeks," Hofmann explains. The developers then present the results to an internal panel of up to 70 people having very close contact with customers from a wide range of industries. To ensure that the products developed by Endress+Hauser are aligned with actual needs, customers themselves sometimes join the panel. "In many small steps, we move closer to creating true customer benefit," the team leader says, emphasizing how important this kind of flexibility and agility is: "The world is no longer just complex. It's chaotic. Everything can change in unforeseeable ways at any time."
Once an application is basically up and running, it is released as soon as possible and further developed with pilot customers. One thing the services share is their easy and intuitive user experience. "Users can get started right away," Hofmann says. The apps help them to do things like monitor instrument status, organize devicerelated documents and access measured values from anywhere. Netilion Analytics is a good example of what a huge difference this can make. The service can be used to digitally capture and manage information about the installed base. "Netilion is 70 percent faster than manual data collection," Hofmann says. Service technicians no longer need to spend days walking around plants. "This is a real success story in terms of boosting efficiency," he adds.
Published 25.01.2023, last updated 13.02.2023.
Dive into the world of the process industry through new exciting stories every month with our «changes» newsletter!
Subscribe to newsletter