Hub for East Africa
With its three modernized seaports in Dar es Salaam, Tanga and Mtwara, Tanzania wants to reinforce its role as a major trade center in East Africa. To support this effort, Endress+Hauser is supplying advanced measurement technology – an extraordinary project that turned into a real challenge under pandemic conditions.
Text: Robert Habi
Photography: Sam Vox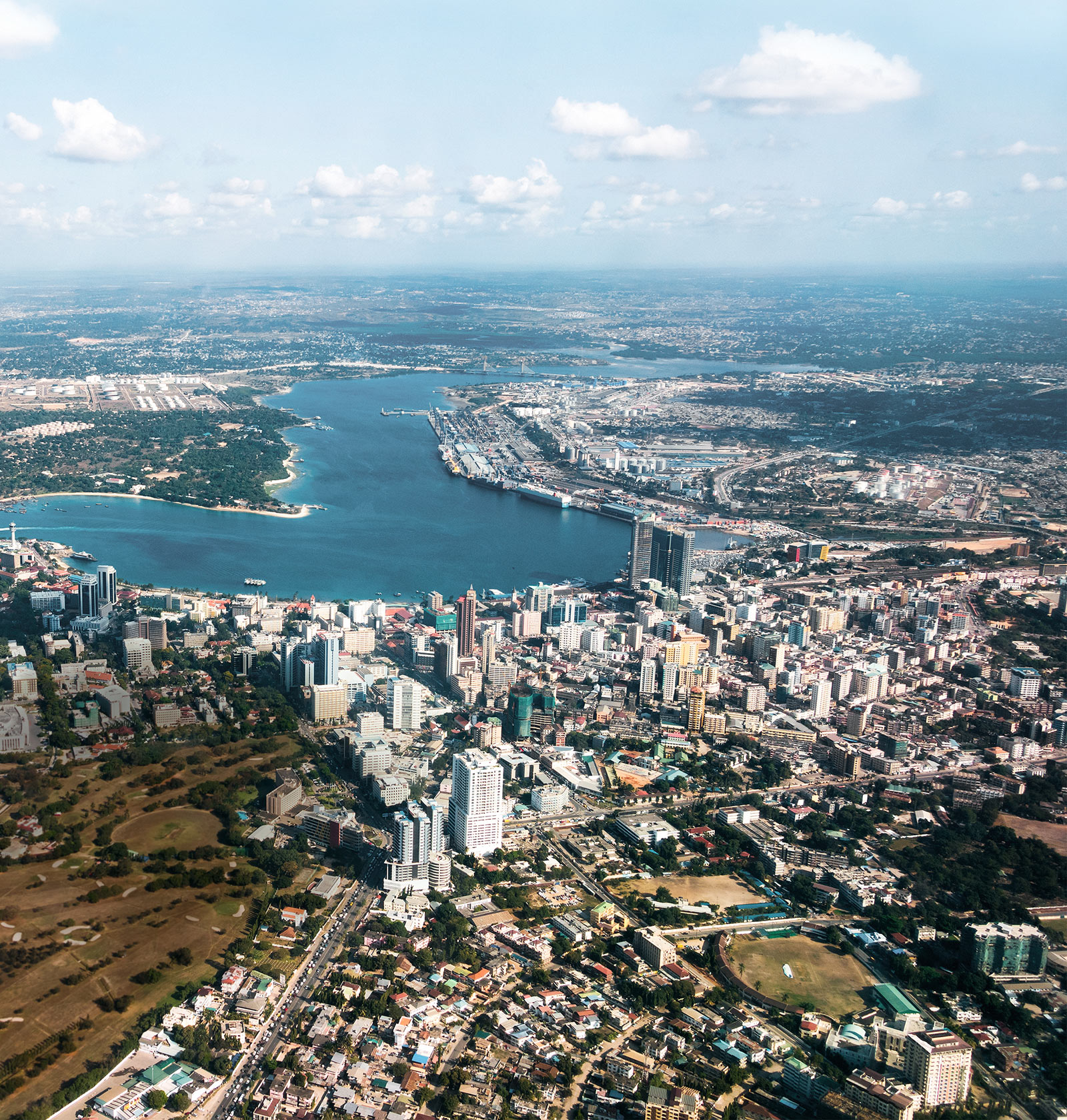 For once, Riccardo Cremascoli is actually in his home office in Milan when he picks up the phone. Most of the time, callers will catch him while he is on the road. As Head of Project Operations at ­Endress+Hauser, he is responsible for managing large-scale projects around the entire world. That's why there tends to be very little that impresses the native Italian. But when he talks about the three-port project in Tanzania, you can hear the excitement in his voice. "This order is something special. Our projects often involve expanding existing plants with one, two or sometimes even four skids." These large steel frames house the measurement technology from Endress+Hauser, including piping, valves, other system components and the necessary cables. "In Tanzania, however, we built three completely new facilities with 19 skids, some of them double decks, including a whole series of ancillary modules."
First things first, though. The customer – the Tanzania Ports Authority (TPA) – had ordered a complete turnkey package for the three seaports in Dar es Salaam, Tanga and Mtwara. The 19 liquid products that are unloaded there were to receive their own metering skids, each equipped with high-precision instrumentation. Everything was to be single-sourced, from system engineering and manufacture, to transport, construction of the foundations, on-site assembly and commissioning: a real challenge. In order to successfully structure such a complex project with numerous sub-phases, Riccardo Cremascoli has a principle he swears by. "You have to provide the entire team with a precise vision of the objective – not building the house before you select the windows and the rest, but having the big picture in mind from the very start."
Competition on the coast
For TPA, the metering systems completed the government's big picture: state-of-the-art seaports capable of holding their own as maritime trade centers against competitors in the region. The question is who will serve the future flow of goods to and from Africa's inland countries such as Malawi, Zambia, Burundi, Rwanda, Uganda and the Democratic Republic of Congo, where rapidly growing populations are set to drive the volume of freight cargo handling to increasingly higher levels.
Apart from the two seaports in Tanga in the north and Mtwara in the south, Tanzania is investing foremost in Dar es Salaam, its most important transshipment hub. The seaport in the former capital city is the trade center for 95 percent of the East African country's imports and exports, and the beacon of hope for a city that is generating a huge surge in demand. Once a small fishing village on the Indian Ocean, Dar es Salaam – an Arabic name that means 'House of Peace' – is currently the world's 11th fastest growing city. According to estimates from the United Nations, nearly 13.5 million people will live here by the year 2035, twice as many as today.
Infrastructure investment
Raymond Lusekelo, Supply and Logistics Manager who works on behalf of TPA, explains the key benefit of the port project. "For one thing, precise measuring technology will ensure fair business deals between suppliers and importers. Moreover, the country is aggressively investing in cost-effective transport infrastructures to enable streamlined transportation of goods both within and beyond the country's borders," he says, adding that "this makes Dar es Salaam a preferred route for transit goods."
A lot is being done to eventually fulfill this pledge. Since 2017, the World Bank, among others, has invested 345 million US dollars in larger berths, deeper navigation channels and improved port infrastructure. On top of that is a recently expanded rail network which, according to a 2019 report from the Dar es Salaam Central Corridor Transport Observatory, will provide significantly lower transport costs. One building block remains before a sustainable seaport can be established: optimal management of liquid products such as gasoline, lubricating oils, edible oils and other hydrocarbons that have to be measured during custody transfer from the ships to the tank depots. Such was the language in the order when TPA awarded the project in 2018.
"You have to provide a precise vision of the objective from the start – not building the house before you select the windows and the rest."
Riccardo Cremascoli,
Head of Project Operations, Endress+Hauser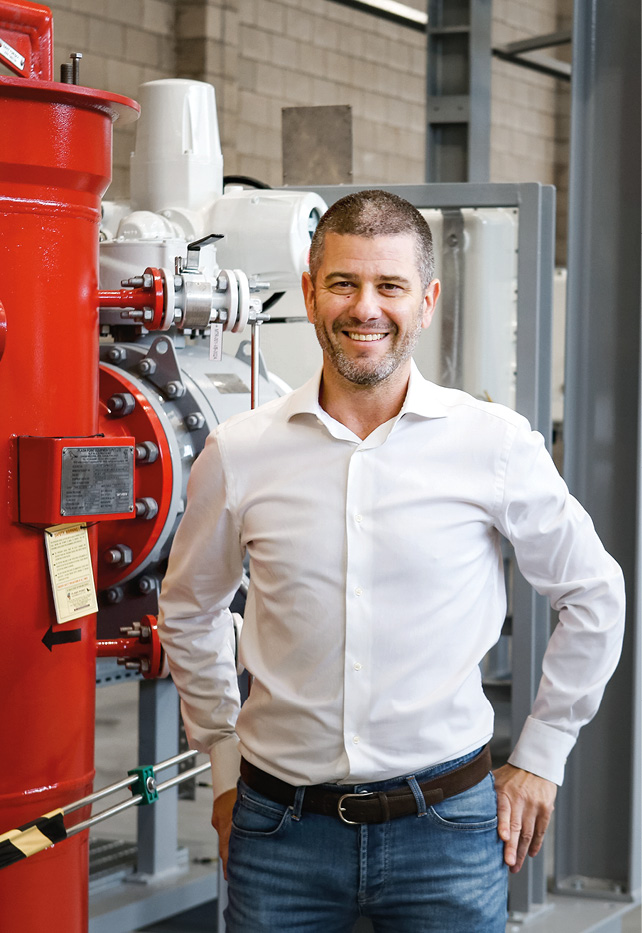 95%
of Tanzania's imports and exports go through the Dar es Salaam seaport.
Hallmark accuracy
Yona Malago, who is responsible for the process systems at the Dar es Salaam oil terminal, explains why Endress+Hauser ultimately prevailed. "TPA wanted to establish a new turnkey custody transfer system that will operate reliably and precisely over the course of its life cycle – and with the lowest possible maintenance costs." Apart from the Promass F product lines, the solution that crystallized during discussions involved the largest Promass X available in the portfolio, with bore diameters of 6 to 12 inches. These instruments operate on the Coriolis principle, which relies on a combination of measurement methods to avoid inaccuracies caused by entrained air, for instance.
The 19 skids, carrying a total of 29 measurement lines, all require individual adaptation. And for the first time, measurement data from the ports should all automatically flow to a central point at TPA. Although this entails a lot of effort, it brings readily apparent benefits for customers. "Liquid goods suppliers can utilize a convenient and precise custody transfer point with shorter berthing times. And improved quantity control makes for more reliability when it comes to the taxes and fees levied on goods by government agencies," says Yona Malago.
"Precise measuring technology and a cost-effective transport infrastructure make Dar es Salaam a preferred route for transit goods."
Raymond Lusekelo,
logistics expert at the Dar es Salaam seaport
Test build in Milan
With this specification, the actual implementation kicked off in February 2019. After a visit to Tanzania, Riccardo Cremascoli and his team decided to avoid unwelcome surprises by building a test setup of the complete system in Milan: pipe for pipe, valve for valve, until all measurement components were operational. They also created a 3D model of the entire system for on-screen viewing. Over the course of a factory acceptance test, the team tested all the functions before everything was packed for shipment. This in turn makes it easier for the on-site contract partner. "We documented every detail and every step in drawings, exactly and precisely," describes Riccardo Cremascoli. "It's the same principle used by that big furniture retailer in Sweden, the only difference being that here we are dealing with systems that weigh tons." Perfectly packed containers were then sent via the Genoa seaport on their journey to Dar es Salaam, and from there by road to the other locations in Mtwara and Tanga.
On-site orchestration
In Tanzania, Azer Coban, project manager for Endress+Hauser, coordinates processes at the installation site. For him, easing into the task was something unforgettable. "Previously I had always acted in a project support role, but this time I was able to manage the installation of a large-scale project. It was a terrific experience. Thanks to my colleagues, the TPA and our local partners, we accomplished our task with much dedication and hard work." The plan included work on foundations, cabling, connecting the system to existing infrastructure and, like with any large-scale project, improvising when the unexpected occurred – because like with so many projects in 2020, the coronavirus pandemic hampered freight logistics, travel and collaboration.  "We fortunately shipped all of the components during summertime in Europe while supply chains were quite stable. But on-site, with social distancing and hygiene guidelines, it's of course more difficult to adhere to a schedule. Heavy rains cost us a good week in addition," recalls Azer Coban.
Ready for commissioning
After an intense construction phase lasting until November 2020, the record project was ready for commissioning. Hundreds of tons of cement, thousands of meters of cables, interconnections, pipes – everything in its intended place. Next came intense pre-testing. The measurement lines for tankers have been in operation in Dar es Salaam since December 2020. The sister ports in Tanga and Mtwara followed in March 2021. "The way that Endress+Hauser and all of the project participants adhered to the schedule was really very impressive," says Yona Malago from TPA.
For Riccardo Cremascoli, an installed system means being on-site again and carrying out training to provide everyone involved with further insights into the functions. Among the 80 or so participants were representatives from TPA, the tax and fuel authorities and quality inspectors. Riccardo Cremascoli paints another clear-cut picture of the current status: "If we use driving as an analogy, then we have already learned the basic functions like steering, braking and starting off." The actual hands-on experience for the technicians will come when ships begin to arrive for offloading.
Proline Promass X 300 - Coriolis flowmeter
Highest capacity four-tube flowmeter with a compact, easily accessible transmitter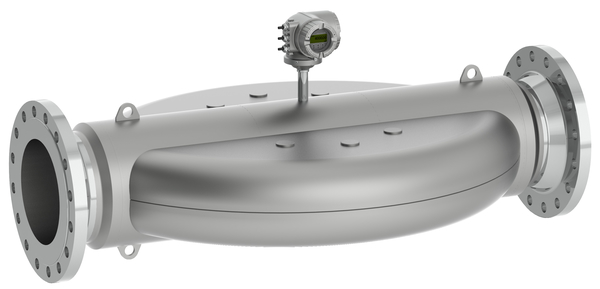 Complex measurement process
What Riccardo Cremascoli conveys in detail to participants at the location, works in simple terms as follows: a tanker docks at a 500-meter-long berth and transfers its liquid cargo through one of the 19 pipelines. Once on shore, motorized valves then direct the product to its intended metering skid, where the instrumentation registers mass flow, density, temperature and pressure. Meanwhile, an air separator ensures the measurements are free of entrained air. A system that automatically takes samples for laboratory checks is also integrated into the skid. If the customer wants to check the accuracy of the system over time, calibration can be carried out with mobile piston provers from Endress+Hauser.
Joined-up measurement data
One of the biggest innovations for the port authority, apart from the measurement instrumentation, is the linking of all of the measurement data and the ability to control the motorized valves from one control room. How much has been measured? How long will the offloading take? Is the medium running through the line with the correct pressure? These questions can be answered at a glance with software. "We can immediately detect deviations at all three ports and react quickly. This is highly important data access that we have lacked until now," says Raymond Lusekelo for the port authority. Two computers for each measurement line gather and process the signals. The data is all visualized some three kilometers north at TPA headquarters at the entrance to the Dar es Salaam port.
Here, with the installed hardware, begins the exciting phase as soon as all three ports are in regular operation. Raymond Lusekelo and Yona Malago are confident in any case. "Over the next three months, we will achieve the accuracy that we need to be a reliable trade center." It goes without saying that Endress+Hauser technicians are also on hand: the record project includes a service agreement. And that means Riccardo Cremascoli will certainly be packing his bags again soon.
"Our people expanded their skills through the new measurement technology and, in turn, were able to bring their experience with oil and gas systems."
John Bura,
CEO BQ Contractors